our expertise
WORKING TOWARDS A PRESERVATIVE-FREE FUTURE IN HEALTHY, EFFICACIOUS EYE CARE
As experts in Ocular Surface, Lid Hygiene and Glaucoma, we work to protect every cornea, pupil, iris and lens through our family of preservative-free products. And we continue our research into new systems to deliver treatments for the ocular surface. It has been shown that preservatives have harmful effects on the eyelids, the ocular surface and the quality of tears, especially with long-term use. Preservative-free is the future in healthy, efficacious eye care.

Glaucoma
Monoprost®
Preservative free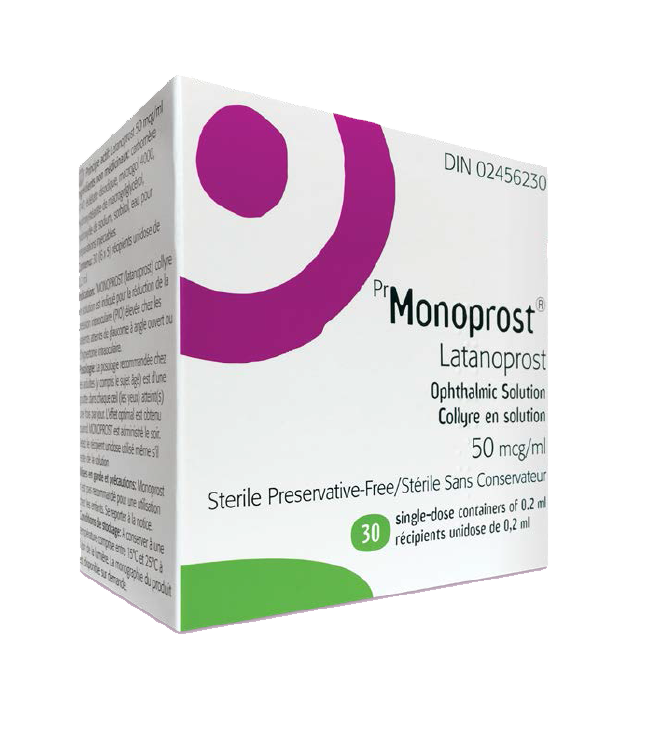 The First and Only Preservative-Free PGA in Canada1
Monoprost® contains latanoprost 50 µg/ml in a preservative-free, single-dose eye drop formulation
Latanoprost is a selective prostanoid FP receptor agonist which reduces intraocular pressure (IOP) by increasing the outflow of aqueous humour
Monoprost® is indicated for the reduction of intraocular pressure in patients with open-angle glaucoma or ocular hypertension. It contributes to the reduction of the risk of ocular surface problems that have been reported to be caused by long-term use of preservative-containing eye drops
Monoprost® Provides:
Reduction in IOP
Preservative-free formulation
Single-dose container holds enough solution for both eyes
How to Use:
Recommended dosage for adults – including the elderly (>65 years of age) – is one drop in the affected eye (s) once daily. Optimal effect is obtained when Monoprost® is administered in the evening. If one dose is missed, treatment should continue with the next dose as scheduled.
Monoprost® is for single use only. The single-dose container provides enough solution to treat both eyes once. Use one drop to treat one eye. Use one drop in each eye if treating both eyes. Discard unused portion even if treating one eye.
Monoprost® should be stored between 15° and 25°C. After opening of the sachet, use the single-dose container within 10 days. After opening of the single-dose container, use immediately and discard the single-dose container after use. Protect from light.
References:
Product Monograph. Monoprost®* (latanoprost 50 Ug/mL ophthalmic solution). Laboratories Thea. Date of revision: November 18, 2021 (Control No.:173577).
Product Monograph. Xalatan* (latanoprost 0.005% ophthalmic solution). Pfizer Canada Inc. Date of revision: July 21st, 2014 (Control No.: 173373).
Rouland, JF et al. Efficacy and safety of preservative-free latanoprost eyedrops, compared with BAK-preserved latanoprost in patients with ocular hypertension or glaucoma. Br J Ophthalmol.

Contact our team if you have questions about how we serve the complex needs of eye care professionals as we extend our reach to Canada.
contact us

Partner with people whose unique passions and expertise contribute to every aspect of our mission, improving patient outcomes and changing the future of eye care.
start your journey